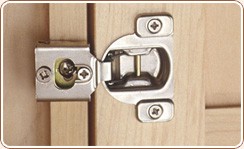 Compact Hinges: – As our standard hinge, the Blum Compact 38 series is a totally concealed, self closing hinge that provides enduring strength and ease of adjustment at a reasonable price. Because of minimal protrusion into the cabinet, it is easy to work with and design around. These hinges allow the door to open 107o.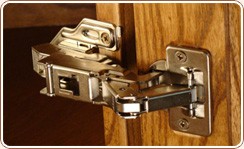 Clip Hinges: – Like Compact hinges, clip hinges are totally concealed and self closing, with the added features of more (and easier) adjustment and the ability to remove the door from the cabinet without tools (like the name implies – they simply 'clip' on and off). There are a number of different styles and types of clip hinges available depending on the application. Generally speaking, the wider you want the door to open, the more expensive the hinge. Our typical clip hinge opens 120o. Though clip hinges are more convenient for the user, they can cause problems when trying to add pull-outs and many types of convenience hardware.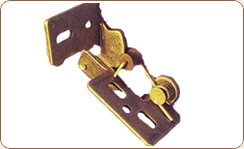 Pivot Hinges: A very simple semi-concealed self closing hinge, pivot hinges are the favorite for many of our customers. Because of their simple design, they can open a full 180 or more degrees. Adjustment is not as easy as the Compact and Clip hinges. Though they are a little less expensive than the previous hinges, they take a little more time to install. Pivot hinges require a slot in the side of the door.